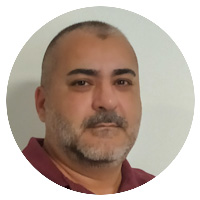 Daniel Peiró
Web Developer
Contact
jobs@danielpeiro.com

Barcelona
Links
danielpeiro

danielpeiro

danielpeiro

danielpeiro.com
Introduction
When I was 12 years old, I developed my first video game for Spectrum, programmed in assembler. Since then there is not a day that I don't spend time studying and learning to keep up to date.
My ideal job is one that allows me to add value and knowledge.
The ideal company is one whose people are honest and good people.
Skills
Continuous learning

Autonomy in learning

Mentoring ability
Best practices
SOLID
Clean Code
Clean Architecture
Testing
Technologies and tools
C#
.NET
.Net Core
ASP.net
JavaScript
TypeScript
React
NextJS
Svelte
Elasticsearch
Solr
PostgreSQL
SQLServer
SQLite
MySQL
Firebase
Dapper
EntityFramework
Git
Github
Bitbucket
Gitflow
Docker
Go
CSS
Scss
Visual Studio
Visual Studio Code
Languages
Spanish

(native)

Catalan

(native)

English

(read and write)